Browse » Home » Tibet Travel Update July 2012
POSTED BY LOSANG བློ་བཟང་ |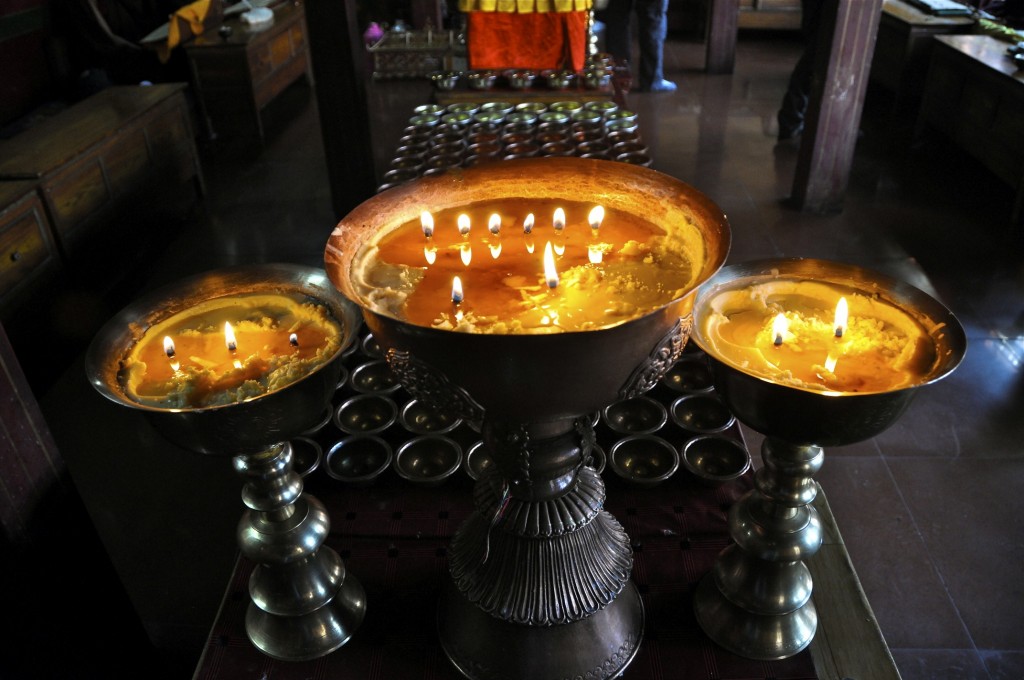 UPDATED July 15, 2012
This year has been a difficult year so far for those wanting to travel to Tibet, including the regions of Amdo and Kham. All areas were closed during March and some areas in Kham didn't reopen until late April/early May. Here is the latest update on travel regulations and closures across the Tibetan Plateau (NB: This information is current at the time of writing. It is important to remember that travel regulations can and do change all the time without any warning).
Lhasa and the Tibet Autonomous Region (read carefully!)
Lhasa and the TAR was completely closed to foreign travelers during the month of March and then closed again in late May due to 2 self-immolations in Lhasa. After the immolations, the region closed again for several weeks. In mid-June the region opened again, but things have been more complicated than ever! To complicate things, there was another immolation on July 10 in Damshung, about 160 kilometers north of Lhasa. Bottom line is there is no guarantee that anyone can get travel permits to enter the TAR. There are a few high end travel agencies that have some good connections with the Tibet Tourism Bureau who have been able to obtain travel permits for their customers, but most other budget and mid-range agencies have been having a lot of problems.  Even these high end agencies are not able to get permits for all of their groups. I recently talked to several good friends who own and manage travel agencies in Lhasa and they have all said they are only able to get permits for less than 10% of the groups that apply for them. Some agencies have not been able to obtain any permits for their groups since May. While I am not saying to completely cancel your upcoming trip to Lhasa and the TAR for the remaining of 2012, I am saying to keep a Plan B close by. In my opinion, most people, except for very high end tours which have been planned in advance for many months,  will have a very hard time getting travel permits and an organized tour for the TAR for the rest of 2012.
For those of you that still wish to try and get permits and an organized tour, you have to be in a group of at least 5 travelers who are all from the same nationality. There are NO exceptions to this. You must pay a deposit of at least 50% of the total tour price to the agency before they can even think about applying for your permit. Several countries are currently temporarily banned from even attempting to apply for Tibet Travel Permits including people from Norway, Austria, Korea, Philippines and the UK (rumors say the ban on the UK has been lifted, but no one knows for sure).
Again, you can try contacting a travel agency in Lhasa to arrange a tour and permits for you, but be advised that most people are not getting in. The Tibet Tourism Bureau has not said that the area is closed, but they are being extremely selective in issuing permits for organized tours.
Do remember that it is NOT the travel agencies who make up these regulations, but it is the Tibet Tourism Bureau. It is no use wasting time getting upset with a travel agency when these are rules that they have to follow.
Chamdo prefecture in the far eastern portion of the TAR remains permanently closed to foreign travelers. It has been closed since March 2010. The overland routes from Sichuan and Yunnan provinces, which must pass through Chamdo prefecture along the way to Lhasa, also remain closed to foreign travelers.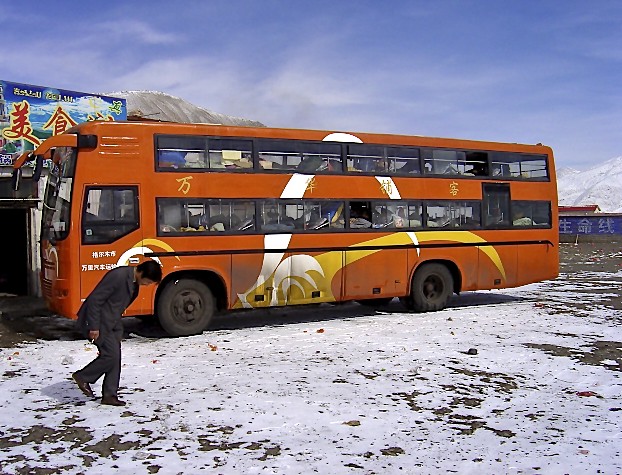 Sleeper bus in Kham
With Lhasa and the rest of the Tibet Autonomous Region being closed, don't just cancel your Tibet tour! Go explore the (mostly) open regions of Amdo and Kham that are located in Qinghai, southwest Gansu, western and northern Sichuan and northwest Yunnan. More than 60% of the total Tibetan population live in these amazing areas!
The Amdo regions
The Amdo regions appear to be open except the restive county of Ngawa/Aba in northern Sichuan province. This is not a surprise as this county has been closed for most of the past 10+ years. I have heard many reports of foreigners traveling across the Amdo areas of Qinghai, including Golok prefecture and Rebkong, without any problems. I have also heard many reports of people traveling the overland route from Xining to Chengdu through Xiahe/Labrang, Langmusi, Zoige/Ruo'ergai and Songpan without any problems. Again, keep in mind that Amdo can be quite restive and closures could occur again at anytime.
The Kham regions
The Kham regions found in northwest Yunnan very rarely close and currently are all open. Yushu prefecture in southern Qinghai province also is all open, but keep in mind that the area in and around Jyekundo is still being rebuilt from a 7.1 earthquake that devastated the region in April 2010. There have now been more than 7 immolations in Yushu prefecture including a recent one in Jyekundo. So, while the authorities there say the area is open, it could close at anytime.
After months of refusing to sell bus tickets to foreigners, the main Xin Nan Men station in Chengdu is now selling tickets to Kangding without any problems. The smaller bus station in the Tibetan District of Chengdu in Wu Hou Ci should also sell tickets without any problems.
Not all regions of western Sichuan are open, even though the local police in the area claim that everything is open. I have heard several reports of people getting turned around who were trying to go north or northwest to places like Ganzi, Sertar and Dege counties. Some people have managed to get to Dege without problems, though I have now heard many reports of people being asked to leave Ganzi, Sertar and Dege. As these places have been political hot spots for decades, this doesn't come as a surprise. I also have heard several recent reports of people not being able to purchase bus tickets going west from Kangding to Litang. There are also reports of a checkpoint along the road from Jyekundo (Yushu) to Sershul (Shiqu). This checkpoint has turned several foreign travelers around back to Jyekundo who were attempting to get to Sershul and Dege. I also heard a recent report of foreign travelers who managed to get bus tickets from Shangri La (Zhongdian) in Yunnan province to Chaktreng (Xiangcheng) and Dabpa (Daocheng) in Sichuan who had to get off the bus near the border of Yunnan and Sichuan and register with their passports.
I know there are a lot of restrictions across the Tibetan Plateau, but with all of the immolations that have happened, it is not surprising.
I will do my best to keep this updated.
Losang
From:  http://www.thelandofsnows.com/tibet-travel-update/